In our ever-changing world, one of the biggest challenge's organisations face is how to stay on top of their game while adapting to new markets, new requirements and environments. To stay competitive, their workforce needs to be up to date with the latest trends and technologies, so it is not uncommon for employees to attend pieces of training in the workplace.
With most training courses, there is little or no follow-up carried out after the initial training. With no plan in place to support and encourage these new skills and habits, participants soon revert back to the old ways of doing things. We believe, when leaders are themselves involved as trainers, learning gets embedded in the behaviour of the participants as the support from the leader-trainers ensures that the new skills become a habit.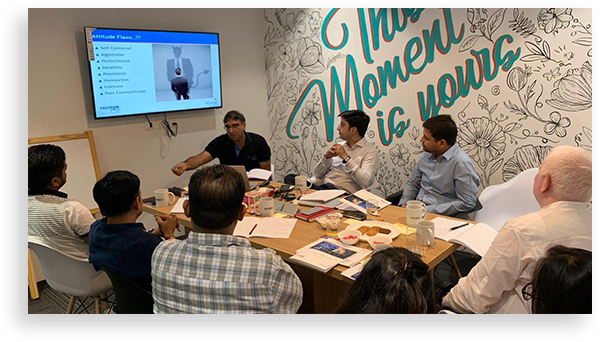 A competent and skilled group of internal trainers will also help a lot in supporting any future change and transformation initiatives that your organisation might undertake. Additionally, having internal trainers allows an organisation to pass on the domain or organisation-specific knowledge from experienced employees to newer ones.
Our Training Leap program provides an effective strategy to equip employees and subject matter experts with new knowledge on how to teach others and how to foster an environment where everybody feels welcome to improve their skills.

The uniqueness of the program comes from the fact that it is long-term training engagement led by the leaders to provide the frontline sales and service executives with the much-needed support.
This program can be designed and delivered for a period spread across 6 to 9 months. The selected leaders/managers undergo 2 days 'Train the Trainer' program post which they further provide training interventions to their teams. Most importantly the program will act as the key to re-enforce the learnings from the sessions over the course of 6-9 months and increase the application ability of the learners to post the training sessions.
These interventions under the Training Leap program can be of the following topics:
Collections & Operation Process
Cross Sell / Up Sell
Objection Handling
Negotiation for Win-Win
Accuracy, Responsiveness, and Timeliness ("ART")
Time Management
Conflict Resolution
Service Recovery
Communication Skills
Business Process Training
Product Training
Key to selling non-air