The relationships developed through a single great customer service experience not only can help deliver a sale, but it can also create a loyal customer that ensures repeat sales for years to come. Plus, with the state of the social and digital age, one incredible customer experience can immediately translate to thousands more. That's why proper customer service training can help deliver a long-term increase in sales and customer loyalty.
Our SERVICE LEAP program is ideal for all customer service professionals, managers, and all specialists responsible for building and sustaining the company's reputation for customer service excellence as well as marketing professionals looking to gain and maintain a compelling strategic edge.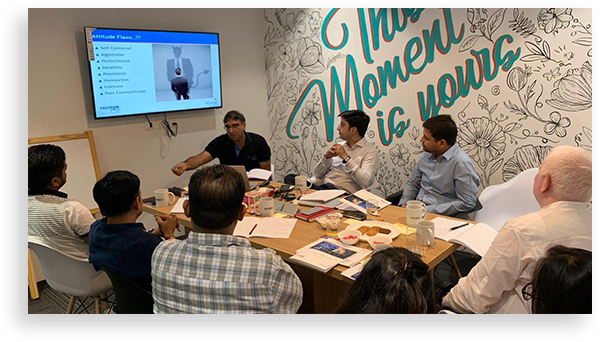 The program will help to:
Access customer service attitudes and set goals
Make heroes out of your frontline service people
Amaze customers with every interaction
Build rewarding customer relationships
The Service Leap programs are designed for 1 or 2 days based on the client's need. The programs are designed keeping in mind the focus is on the application and thus is 40-60% experiential in nature. The skill practice is done through role-plays, case studies, videos, and post-course assignments.
The interventions under the Service Leap program can be of the following topics:
Service Attitude
Proactively Taking Responsibility / Ownership
EQ & Customer Service
Building Trust
Time Management
Cross Sell / Up Sell
Objection Handling
Negotiation for Win-Win
Accuracy, Responsiveness, and Timeliness ("ART")
Observing, Questioning & Listening, Confirming Understanding, Providing Feedback
Creating Rapport
Personality Type Alignment
Communication in Virtual World
Understanding Dissatisfaction (Implied/Explicit)
Anger Triggers
Reasons of Service Gaps
Taking Ownership
Talking to Heart first